Skyrim:Sanguine
The UESPWiki – Your source for The Elder Scrolls since 1995
This page or parts of this page were previously transcluded from lore pages per this discussion.
This page should be checked for potential unrelated lore and other information. Please remove this banner when the page has been cleaned up.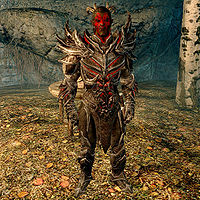 Sanguine is a Daedric Prince whose sphere is hedonistic revelry, debauchery, and passionate indulgences of darker natures.
For more information, see the main lore article.
Sanguine wears Daedric armor with matching gauntlets and boots, and carries an iron dagger.
Related Quests
[
edit
]
Sanguine cannot be pickpocketed.
He is one of three Daedric Princes to make an appearance in humanoid form. Others are Sheogorath and Nocturnal.
Sanguine is a member of the miner class, which determines the level of his skills.
Sanguine gives the Sanguine Rose after successfully completing his quest.
After completion of quest A Night To Remember, you may find him roaming around Morvunskar, killing every mage he can find. Since he is essential, he will always win.