Skyrim:Horm
The UESPWiki – Your source for The Elder Scrolls since 1995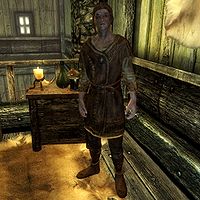 Horm is the adult Nord son of Geimund and Fridrika, and works with his father in the Solitude Stables at Katla's Farm outside Solitude. He will sell the stables' horses if his father dies.
He wakes at 8am to eat breakfast for an hour, spending the rest of his morning inside the house. At noon, he heads outside to work at the stables, only interrupted by a one-hour dinner at 6pm inside the house. He goes to sleep at midnight.
He wears a belted tunic, boots, and a hat. He wields an iron dagger and carries a selection of lower-class items and gold.
When spoken to, he will direct you to his father: "Looking for a horse? You'll want to talk to my father, Geimund." or "Need a horse? I guess I'm the one to talk to, since my da passed..." if his father is dead. He will also tell you about his childhood, saying, "I grew up tending some of these horses. They're almost family." and "When I was a boy, there was a year we couldn't afford enough feed. So I snuck my dinner out to the stables, and gave it to the horse." He is not very talkative, as he tells you, "Pa always says good men need few words." and then excuses himself: "I want to check on Grani, one of our horses. Goodbye, stranger."
When spoken to, his father Geimund will mention him: "With a wife like Fridrika and a son like Horm, I'm the luckiest man in Skyrim."