Skyrim:Barknar (Dawnguard)
The UESPWiki – Your source for The Elder Scrolls since 1995
This article is about the refugee added by Dawnguard. For the ranger on the Throat of the World, see Barknar.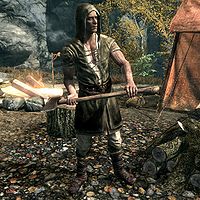 Barknar is a Nord camped out in Dayspring Canyon. He came to Fort Dawnguard with his wife Alvide for protection from the vampires but the Dawnguard won't let him in.
He will show up in Dayspring Canyon during the quest Beyond Death and will do very little but wander around, at times chopping some firewood or using the cooking pot. He never sleeps. He wears clothes with a cowl and boots.
He will explain his situation, saying things like "I've no love for living out of a tent, but I'll take that over being ripped apart.", "Why can't they just let us in? We won't get in the way!", "It looks like this is as close as we're going to get being safe from the vampires.", and "I hope Alvide doesn't think less of me, but I can't protect her on my own. We're safer here."