Skyrim:Barknar
The UESPWiki – Your source for The Elder Scrolls since 1995
This article is about the ranger on the Throat of the World. For the refugee added by Dawnguard, see Barknar (Dawnguard).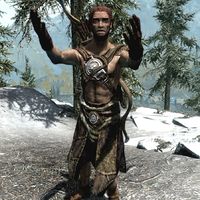 Barknar is a Nord ranger from Ivarstead who often walks the path towards High Hrothgar.
He can be found praying in front of the second etched tablet you encounter as you climb the 7000 steps. Once found, he will start heading down the mountain, and go to the Vilemyr Inn in Ivarstead where he will eat, relax, or sleep at random times. At other times, he may decide to take yet another trip up the mountain for another silent prayer.
He wears hide armor, gloves, and a pair of randomly selected boots (4 variants). He also has a 50% chance of wearing a hat (3 variants). He carries a leveled bow with twelve arrows of the best possible quality. He also carries a spare set of gloves, a torch, a raw rabbit leg, and a small amount of gold.
Related Quests
[
edit
]
Quest-Related Events
[
edit
]
When he sees you he will provide a bit of advice:
"Keep an eye out for wolves if you're headed up the path to High Hrothgar."
When asked if he heard the Greybeards summon the Dovahkiin, he will say:
"I did. Strange days when the monks will do that. I wonder what it means."
What are you doing?
"I like to spend time up here. Walk the Steps, meditate on the emblems. Doesn't hurt when I bag some game along the way."
Do you visit the Greybeards?
"They're not the sort to take visitors, but I never go that high up the path anyway. Some folk who make the trip leave them food or other essentials, but not to make conversation."
If you meet him later at Vilemyr Inn, you can ask him again what he is doing and he will respond:
"Enjoying the hospitalities of the inn. Suggest you do the same."
Lastly, if you meet him on his way up the mountain and ask what he is doing he will explain:
"I'm walking the 7,000 Steps to honor the Greybeards and reflect on my own life. It's a tradition among the Nords of Skyrim."