Online:Wasting Away
The UESPWiki – Your source for The Elder Scrolls since 1995
This page is currently being rewritten as part of the Online Quest Project.
The page is being both written and checked. All users are welcome to make changes to the page. If you make a change that is relevant to the project, please update this template accordingly, and make sure you have observed the project guidelines.

| | | | | |
| --- | --- | --- | --- | --- |
| | | Assist an estate's heir as he uncovers the truth about his family's past. | | |
A group of outcasts living in the seclusion of the Corgrad Wastes has seen their number dwindle after a string of disappearances. They believe the source of the trouble lies in the old buried ruins exposed by the recent sinkholes plaguing the region.
Quick Walkthrough
[
edit
]
Talk to Ruliel outside of Corgrad Wastes.
Speak to Faidur for more information about his family's estate.
Find a way inside.
Detailed Walkthrough
[
edit
]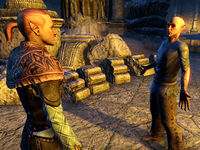 Quest Stages
[
edit
]
Wasting Away
Finishes Quest
Journal Entry
An escaping vagrant told me Ruliel and some others are still waiting for the missing to return and told me where I could find their camp. I should speak to Ruliel about the disappearances.

Objective: Talk to Ruliel

Ruliel, one of the outcasts, suggested I talk to the agitated Altmer who's been harassing his group. The High Elf claims to be the heir to the estate and has been pressuring the outcasts to leave his land.

Objective: Talk to Faidur

I spoke to the heir to the lands Ruliel's people are squatting on, Faidur, and he denies any knowledge of the disappearances. He claims he only recently arrived to explore his lost family holdings. We agreed to search the ruins together.

Objective: Head to the Ruins of Corgrad

Much of Corgrad appears to have sunken into the sea, but some of the buildings still poke above the surface. Faidur and I need to find a way inside.

Objective: Find a Way Inside the Ruins

Faidur and I were able to enter a buried manor through a broken window. The place is in total ruin and there's no sign of the missing people yet. I should confer with Faidur about what we're looking for here.

Objective: Talk to Faidur

Faidur asked me to help him search the manor for anything that might tell us about the history of the place. I am not sure there will be much left untouched by the elements, but I will keep an eye out regardless.

Objective: Search the Buried Manor for Clues to Its Past

There is a badly weathered statue in the foyer that appears to be the head of the household. Faidur will want to hear about this.

Objective: Talk to Faidur

Faidur was intrigued by the possibility that his family has ties to nobility, but it only makes the mystery of their disappearance from history all the more strange. Faidur wants to continue searching for clues.

Objective: Search the Upstairs Landing

I found a journal belonging to one of Faidur's ancestors. I should show it to him.

Objective: Talk to Faidur

Faidur believes the journal I found comes from the time of the Thrassian Plague, possibly explaining why the town disappeared. He suggested we continue our search of the remaining upstairs rooms for more clues

Objective: Search the Adjacent Room

The documents we found imply that there are burial vaults beneath the manor where the family took shelter as the plague worsened. I should speak to Faidur about our next move.

Objective: Talk to Faidur

A crumbling wall has exposed a tunnel of eroded stone leading deeper under the estate. Faidur thought he heard movement coming from the passage, which might be a sign of the missing persons. We should continue our search.

Objective: Search the Underground Passages

Faidur and I spotted a figure lurking in the shadows who fled as we approached. We found no sign of the figure, but there is a recently used camp. We should look for clues there.

Objective: Search Campsite

The tunnel Ruliel's people traveled down leads to a large cavern, though there are signs of architecture as well. I need to pick up their trail again.

Objective: Search the Cavern

Objective Hint: Talk to Faidur

We stumbled across an encampment of people huddled around a fire in the cavern. They seem almost primitive, definitely not Ruliel's friends. One of the group invited us to join them.

Objective: Talk to Cavern Dwellers

Arillas told me he saw strangers from the surface head deeper into buried Corgrad, through a narrow tunnel to the north. Faidur has decided to remain with Arillas to learn more about this place. I will continue to search for the missing persons.

Objective: Find Missing Persons

Objective Hint: Talk to Faidur

Objective Hint: Talk to Arillas

The narrow passage lead to a dead end. There are bodies here that may be those of the missing squatters. I should search them for anything that would identify who they are.

Objective: Search the Bodies

The letter was a warning from Karnhar about the cave people, who ambushed me shortly after I discovered the truth. I need to find Faidur and get him out of here before he comes to harm.

Objective: Find Faidur

The cave people appear to have taken Faidur. Following the sound of his cries led me into the vaults beneath the Corgrad estate. I should search the chambers for him.

Objective: Pursue Faidur's Abductors

I found several missing persons being held captive in the estate's vaults. The [sic] appear to have been tortured. I should speak to them and find out what's going on.

Objective: Talk to Henrigg

The prisoners have been subjected to ghastly acts for some unknown purpose. They say that Faidur was taken to the Saviors, but I won't reach them without Arillas's keys. I need to find them, quickly.

Objective: Find Arilass's Keys

I found Arillas's keys in some sort of alchemical laboratory. I should be able to use them to free the prisoners from their bonds and open the door leading to Faidur and the Saviors.

Objective: Rescue the Prisoners: 0/2

I freed the captive squatters. The one named Henrigg wishes to speak to me.

Objective: Talk to Henrigg

Henrigg told me Faidur is trapped in the crypts with the Saviors. I need to find him and rescue him before it is too late.

Objective: Save Faidur

I found Faidur inside the Saviors' crypt being subjected to some sort of ritual. Though their bodies are nothing more than desiccated husks, the Saviors appear aware. At least one of them has bid me to speak to him.

Objective: Talk to Nemfarion

The Saviors intend to use Faidur to revive themselves, condemning him to their sad state. I can't let them use him like that. There is a strange stone at the center of their ritual. I need to destroy it.

Objective: Destroy the Embalming Stone

Objective: Talk to Murderil

Objective: Talk to Rultarion

Objective: Talk to Kinlady Taanwae

Destroying the stone freed Faidur from its influence and appeared to kill the Saviors. I should see if Faidur is alright.

Objective: Talk to Faidur

Now that I have freed Faidur and the other prisoners we'll need to escape the underground before the Saviors' followers attempt to capture or kill us.

Objective: Help the Prisoners Escape

Arillas is livid about me killing his Saviors. He's blocked off our escape route. We'll have to go through him to make our escape from the ruins of Corgrad.

Objective: Kill Arillas

Crazed by the death of his Saviors, Arillas attempted to stop our escape, but I was able to best him in combat. We should be close to the surface now. We just need to reach it.

Objective: Escape to the Surface

I managed to lead Faidur and the others to the surface safely. Ruliel will want to hear about what has transpired down in those ruins and the fates of those who didn't escape.

Objective: Talk to Ruliel

The Saviors are truly dead and their captives released, but the cave dwellers still remain in buried Corgrad. I should speak to Faidur about what he learned about his family's past and his own future.

Objective: Talk to Faidur