Online:Vamen
The UESPWiki – Your source for The Elder Scrolls since 1995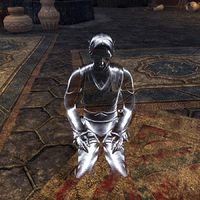 Vamen is a Dunmer encountered in a vision at the Tribunal Temple as part of the related quest. He killed Belronen Telvanni, and it was up to Vivec to determine if the killing was murder or the fair outcome of a duel. You must take the place of Vivec as part of the vision.
Related Quests
[
edit
]
Quest-Related Events
[
edit
]
You will need to question him during the investigation.
"My Lord Vivec, I bear the most grievous news. Belronen Telvanni challenged me to a duel of blood. I regret to say I won.
It was a small cut upon the arm, enough to settle the matter. But he fell dead!"
Tell me of these troubles.

"I was advising Talnus and Galdsa when the others arrived—Belronen, full of anger; Fenila, a sneer on her lips; and Morami, resigned to what came next.
Belronen claimed I'd interfered in his affairs. He insisted I knew what he meant."
Had you given him reason to be correct?

"Of course not! I told him so, but he claimed it a lie and challenged me to a first-blood duel. Then everything turned to death.
nMy blade ended his life and directly caused this turmoil. I willingly submit to your judgment, Lord Vivec."
Your hands guided another's plot. None can blame you.
"Your word is unquestioned. I am here to command.
Though my blow caused Belronen's death, it was set in motion by another hand. I will aid you in discovering the source of this duel, if you will it."
As you say, Vamen.
You were maneuvered into a duel which you failed to lose. His blood stains your hands.
"Fenila's words are incorrect, Lord Vivec, though she clearly believes them. I haven't contacted Belronen for months, and would never have done so without your direction.
Wealth has no meaning next to serving you, my lord. This you know to be true."Speaking with him after speaking to Fenila?
Service drives you, Vamen. You could not have written that note.investigate further