Online:Turo
The UESPWiki – Your source for The Elder Scrolls since 1995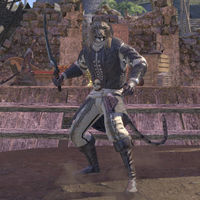 Turo is a Khajiit crime boss and slaver who has taken over control of South Guard and runs a smuggling and slaver outfit known as the Black Gulls from his base in the ruins. Back during The Scorch, Turo took advantage of the widespread burnings by murdering those who would stand against him with fires of his own making.
Related Quests
[
edit
]
Quest-Related Events
[
edit
]
Your first encounter with Turo will be overhearing him and Antonia Matias' conversation in the warehouse.
Turo: "So, Daini and her dock-tailed brother try to steal from me, eh? Truly, I should have burned those two with their father. Easily remedied, though. Thank you, Antonia."
Antonia Matias: "Oh, you're welcome, Turo! Anything for you!"
Turo: "Of course, you did work with her, so ... you see my dilemma. Business is business, Antonia. You understand, I'm sure."
Antonia Matias: "What? No! No! No!"
Afterwards you will find out what he meant by "easily remedied" as he abducts Daini's friends and demands that she surrender to him in exchanged for her brother's life. While Daini turns herself in and you rescue her friends, you will encounter Turo lounging on his throne within his fortress while you search for Daini and Safik.
When he noticed you, he will be confident that he can defeat you. During his fight he will through flaming concoctions on the ground while teleporting.
Turo: "Uninvited guests? Well, I can always use more slaves."
When engaged in combat:
Turo: "You'll beg for the shackles before I'm through!"
At around 75-50% health:
Turo: "Look now, you're scaring the poor slaves!"
At 25% health he will demand that his slaves help him:
Turo: "Do something you cowards! Help your master!"
Once you have killed Turo the nearby slaves will flee and you can find the siblings within the nearby Secret Cellar.