Online:Antonia Matias
The UESPWiki – Your source for The Elder Scrolls since 1995
Antonia Matias is an Imperial survivor living in the South Guard Ruins and an unreliable associate of Daini.
Related Quests
[
edit
]
Quest-Related Dialogue
[
edit
]
After rummaging through the remains of Turo's caravan and returning to Daini. You will come across Antonia talking with Daini, frightened of any potential retribution to Daini's actions.
Antonia Matias: "Turo? This was Turo's caravan? Daini, he'll kill us all for this!"
Daini: "Calm down, Antonia. Just come back to the house, yes? Daini will explain everything."
Antonia Matias: "I need to ... maybe he'll go easy if I tell him what happened! Get away from me!"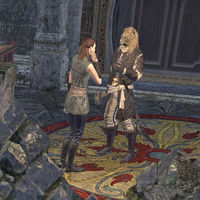 Antonia will then run away to sell Daini and her friends out to Turo. She is not seen again until you witness her meeting with the crime boss, while hiding in Daini's father's old warehouse.
Turo: "So, Daini and her dock-tailed brother try to steal from me, eh? Truly, I should have burned those two with their father. Easily remedied, though. Thank you, Antonia."
Antonia Matias: "Oh, you're welcome, Turo! Anything for you!"
Turo: "Of course, you did work with her, so ... you see my dilemma. Business is business, Antonia. You understand, I'm sure."
Antonia Matias: "What? No! No! No!"
Turo then strikes her with a hammer and strides away from the corpse.