Online:Sunhold Sundered
The UESPWiki – Your source for The Elder Scrolls since 1995
This page is currently being rewritten as part of the Online Quest Project.
The page is being both written and checked. All users are welcome to make changes to the page. If you make a change that is relevant to the project, please update this template accordingly, and make sure you have observed the project guidelines.

Kinlady Helenaere of Sunhold needs my help to fight back against a Maormer raiding party and rescue her city.
Quick Walkthrough
[
edit
]
Destroy Maormer supplies, rescue Sunhold's citizens, and free the gryphon Sunnawel.
Meet Kinlady Helenaere and Khavid in Sunhold's merchant district.
Defeat Admiral Viscarne and save the Kinlady.
Detailed Walkthrough
[
edit
]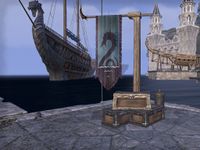 The closest objective is to destroy the invaders' supplies. The supplies are located on the docks, accessible from the paths by the entrance. Head south towards the sea and start burning Maormer Supplies, which are in trunks and crates along the docks. This task is simple, and can be done without alerting the Maormer if you're really careful.
When you find a group of prisoners, you will need to destroy their chains. You will release from two to three prisoners at a time in doing so.
Sunnawel is also being held in chains. Kill the Storm Sharks harassing her and destroy one of the chained posts holding her down. Destroying one of the electrified bindings will give her the wiggle room needed to break free of the other bindings, allowing her to fly off. Congratulations, you've unlocked the aid of a giant feathered monster that will pick off Maormer for you on occasion.
The next step is to find the Kinlady. You will be approached by Khavid, who informs you that the Kinlady has been captured by Admiral Viscarne. The Kinlady is being held captive at a courtyard in the northernmost section of the city, near Sunhold's group event. Kill the admiral, free the Kinlady and accept your reward for helping the people of Sunhold.
Quest Stages
[
edit
]
Sunhold Sundered
Finishes Quest
Journal Entry
I've been asked to help Sunhold in several ways. I should destroy Maormer supplies in the harbor, free chained citizens, and save the gryphon Sunnawel.

Objective: Destroy Maormer Supplies: 0/6

Objective: Rescue Chained Sunhold Citizens: 0/7

Objective: Free Sunnawel

I've completed the tasks Kinlady Helenaere asked of me. I should meet with her and Khavid in Sunhold's merchant district.

Objective: Meet with Kinlady Helenaere

According to Khavid, Kinlady Helenaere has been captured by the Maormer. I should stop her execution by defeating Admiral Viscarne.

Objective: Kill Admiral Viscarne

Optional Step: Talk to Khavid

I've defeated Admiral Viscarne. I should speak to Kinlady Helenaere.

Objective: Talk to Kinlady Helenaere