Online:Strange Sapling
The UESPWiki – Your source for The Elder Scrolls since 1995
Strange Sapling
Species
Strange Sapling
Reaction
Friendly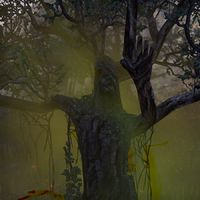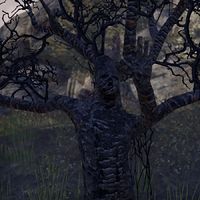 The Strange Sapling is a talking tree found northeast of Hoarfrost Downs, outside the Cave of Sorrows. It contains the spirit of Merethrin, a mage who sought to extend his life using the elements of nature. His spell didn't work out as planned, and his spirit was instead transported into a nearby tree, causing him to suffer memory loss and the existing Tree Spirit's lifeforce to be expelled from the sapling. After the spell is reversed, the tree will be renamed to "Dead Sapling".
Related Quests
[
edit
]
Dialogue
[
edit
]
"The wind whispers to me tales of distant places, of verdant glades dappled with sunlight. Where is this beauty, this wonder? Why can't I go there?
What is this strange being standing before me?"

Are you talking to me?

"The creature speaks! My loneliness falls away like the autumn leaf. The wintry shiver of apprehension sets in: do I dare ask the many questions I have? Do I dare hear the answers?
How? When? Why? Why am I cursed with the burden of thought?"

Who are you?

"I'm a tree. But I think. I feel. How? Other trees have no such faculties, do they?
I even have memories. Movement. Walking. A cave... but then nothing. There's something about the cave. It's near. Will you search inside for the answers I have lost?"

Yes. I'll investigate the cave.
After the spell is reversed:
<The sapling does not stir. Its leaves are shriveled and wilted. It looks quite dead.>