Online:Star-Gazer Herald
The UESPWiki – Your source for The Elder Scrolls since 1995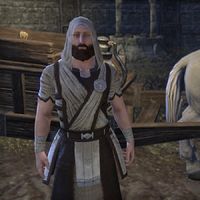 Star-Gazer Heralds are Imperials who appear in Elden Root, Wayrest and Mournhold once you become a Veteran. They will offer you access to Craglorn and free transport to Belkarth as part of the related quest.
Related Quests
[
edit
]
Dialogue
[
edit
]
"Doom has come to Craglorn! The stars have vanished from the sky!
Will no one listen? Will no one help?"
The stars have vanished? What are you talking about?
"I'm an initiate in the Order of Star-Gazers. We study the stars and their influence on Tamriel.
Not long ago, we noticed irregularities in three of the star signs. Shortly thereafter, strange armies overran Craglorn."
How can I help?
"One of our order, Hara, is leading our efforts to stop these attacks. But we're not warriors.
This cart will take you to Belkarth, in Craglorn, where you can speak to her personally. Please, help us."
Very well. I'll aid you as best I can.