Online:Miriette Veloise
The UESPWiki – Your source for The Elder Scrolls since 1995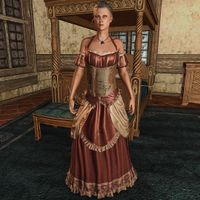 Miriette Veloise is a Breton noble and the mother of Isobel Veloise who can be found with her husband Delven in their townhouse in Gonfalon Bay.
Related Quests
[
edit
]
Quest-Related Events
[
edit
]
People of Import
[
edit
]
She will be one of the guests at the gathering at Castle Navire. You won't be able to speak to her.
A Chance for Peace
[
edit
]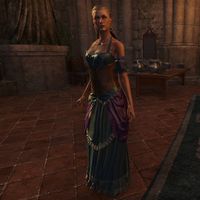 She can be found among the crowd during the ceremony in the Gonfalon Palace as Lady Miriette Veloise. She has no unique dialogue. If you do not have Isobel summoned and you have completed her recruitment quest, she will be standing beside Miriette.
The Lost Symbol
[
edit
]
Isobel Veloise will have received a letter from her friend Aurelia Jourvel who was sightseeing in Stros M'Kai. Aurelia was recently robbed of several of her personal items, including a family signet ring that Isobel had once given her. You soon find out it was actually stolen by her travelling companion Kiv Lindres, a serial conman. After tracking down Kiv and the ring, Isobel will want to hand over the signet ring to her family back in their home in Gonfalon Bay.
Once you enter their townhouse with Isobel, you will meet her parents and can witness their conversation:
Miriette Veloise : "Bella? Is that you? Come on up, we're just upstairs!"
Isobel Veloise : "Hello mother, hello father. I have some news. A thief stole my old signet ring, and may have caused us some issues. Don't worry, my friend and I are looking into it."
Delven Veloise : "Hmm. That would explain some letters we've received."
Isobel Veloise : "We caught the thief and I have the ring, but I want you to have it. I clearly can't keep it safe."
Miriette Veloise : "I am sure there's a story here, and I bet it involves Aurelia. But for now I'm just so glad to see you."
Isobel Veloise : "My friend, I'm proud to introduce you to the honorable Delven Veloise, and Lady Miriette Veloise."
Delven Veloise : "Welcome! Isobel writes us often, so we feel like we know you already!"
Speaking with Miriette before Isobel:
"Such a pleasure to finally meet you. Miriette Veloise. We travel a lot and it's been hard to get Bella back here for dinner."
After talking to Isobel, another short scene occurs:
Isobel Veloise : "Thank you, both. I'll feel a lot better if I know you have it. I love you guys."
Miriette Veloise : "Of course we'll hold it for you. But you know we trust you."
Delven Veloise : "Just let us know if you need any help sorting out where he went, all right? We love you too."
Talking to Miriette after completing the quest with Isobel. She may say one of the following lines [verification needed — see talk page]:
"Do try to make sure Isobel remembers to have fun. She's always been such a serious person, even when she was young.
She used to salute us with her little wooden sword. So cute!"
"I wish we'd been there with you, to see her win the Tourney. It's so good to meet you now, though, and to see Bella!
Next time you come by we'll have dinner together and I can tell you all sorts of stories from when she was a little girl!"
"Isobel writes us, tells us all about her travels with you. She says she's learning so much!" [verification needed — see talk page]