Online:Lorwen
The UESPWiki – Your source for The Elder Scrolls since 1995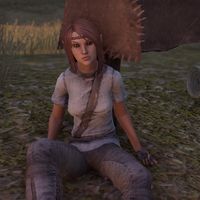 Lorwen is a Bosmer relic-seeker from Rawl'kha and the niece of Nethrin, being the sole daughter of Nethrin's deceased brother. She is found in a destroyed campsite northwest of Deathsong Cleft, suffering from wounds inflicted by a contingent of Dawnmead bandits.
Related Quests
[
edit
]
Dialogue
[
edit
]
When approached, Lorwen is clearly enduring pain from her wounds but initially puts on a brave front:
"Fancy meeting you here. Don't suppose my uncle sent you, did he?"
He did, actually. Are you all right?
Hah, Uncle Nethrin pulls through after all. I'm...I'm not all right, no. But I will be. They cut me pretty good, and I had to crawl underneath poor Emalin over there.
What happened then?"
"They left us for dead. Poor Emalin...I lost a lot of blood, couldn't staunch her wound. Managed to crawl over here and bandage myself up, though. Lucky you came along when you did. I was just thinking of making up for Rawl'kha."
Do you need any help?
"No. Listen...if you know Uncle you know why I'm out here. You have to get back the relics they took from this site. I heard them say they were making for Claw's Strike. The local name for an old Khajiiti ruin to the south. I'll be fine on my own.
If you're sure then, I'll head for Claw's Strike.
If spoken to after this point, she will only dismiss your concern: "Don't worry, I'm not dead yet. Go on. I'll see you around."
Following the completion of the quest, Lorwen resolves to accompany her uncle on his journey to return the bones they have uncovered: "No way I'm going to let Uncle return those relics without me. I bled for this cause. I'm going to see it through."
Unbeknownst to her, however, Nethrin has already decided to bring her along, disclosing to you, "I'm going to take Lorwen with us when we go to return the bones. I figure she has some blood in this now, right? I don't think she'd let me leave her behind, either."