Online:Rawl'kha
The UESPWiki – Your source for The Elder Scrolls since 1995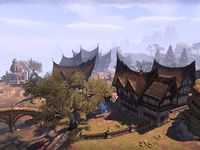 Rawl'kha is a city in central Reaper's March. Perhaps the most significant building in the city is the Temple of the Two-Moons Dance. It was there that Rid-Thar-ri'Datta had his Epiphany. The city has played an essential role in the ascension of each new Mane. Kauzanabi-jo is the temple's current keeper. The temples are comprised of ancient stone, while all the other buildings are made of wood.
Due to the fact it is situated between Dune and northern Valenwood, and built upon a tributary of the Strid, Rawl'kha plays a key role in the region's trade. Many caravans stop here before crossing the dry savanna. To assist the flow of goods and gold through Rawl'kha, the city has three markets. The greater March Bazaar is in the center of the city, and contains the ordinary merchant stock. The Moonlight Market lies west of the March Bazaar, and consists of guild kiosks. The wayshrine is located at the southern end of the market, and the bank lies east of the wayshrine. The Cat's Own Steed lies east of the bank, and Kuna's office lies even further north of that. A letter and a copy of the lore book, The Red Book of Riddles, can be found in the office. Hears-the-Wind's Home lies north of the Moonlight Market. The inner-city entrance to the local outlaws refuge lies beneath this tall, stilted home. The Outskirts lies west of the guild traders, and gives caravans and refugees a place to rest.
Due to the Colovian invasion of Arenthia, the city has recently seen an influx of refugees, namely Bosmer. The Vinedusk Rangers established a camp south of the city after their headquarters were besieged by the Legion of the West Weald.
Related Quests
[
edit
]
Shops and Services
[
edit
]
Transport Services
Dominion Navigator: Selandilwen (Malabal Tor, Auridon, Bangkorai, The Rift)
Wayshrine

[

edit

]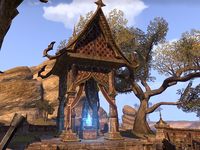 Rawl'kha Wayshrine is located in the southwest of the city, between the bank and Moonlight Market.
*Quest-Related
Gallery
[
edit
]