Online:Log Roller
The UESPWiki – Your source for The Elder Scrolls since 1995
Log Roller
Home City
Ebonheart
Race
Nord
Gender
Varies
Health
133844
Reaction
Friendly until challenged to a brawl, then Neutral, then Hostile, and Friendly when someone wins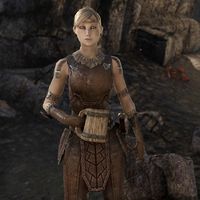 Log Rollers are Nords found just outside the main gate of the city of Ebonheart. Hraelgar Stonecrush will challenge you to fight one of them, which they heartily encourage.
Related Quests
[
edit
]
Quest-Related Events
[
edit
]
Speaking to any of them outside of the quest and you'll get the following remarks that are gender specific.
Male Log Rollers:
"I tried the drink at the inn, but I think I'll stick with our own mead.
I can't take this local stuff. It's made out of mold or something."
Female Log Rollers:
"Some of the boys like to flirt with the Elf girls. I don't know why. They're so little. There's nothing to them!"
During the quest, you can ask for a fight:
Care to brawl? You look as stringy as a wet Khajiit, and you smell twice as bad.
"Har har! You're clever, you are. Let's see how well you take a blow."
During the brawl, they'll call out any of the following lines:
Log Roller : "Come at me!"
Log Roller : "Ha ha ha! Stop! I need more mead."
Log Roller : "Ha ha ha! Ow! I quit."
Log Roller : "Try to put up a decent fight?"
Log Roller : "All right, you got me. Say, you're not bad!"
Log Roller : "Don't be timid!"
If you speak to them during the quest while sober, you can only say:
I need more mead. I'll be right back.
When you win:
Speaking to them after the brawl:
"Woof! Ha ha ha! Good fight!
You'll have to find someone else to brawl with. I just need a moment to catch my breath. And stop the bleeding. And get another mead. You know how it is."