Online:Lindel
The UESPWiki – Your source for The Elder Scrolls since 1995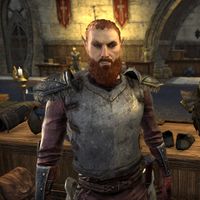 Lindel is an Altmer and the hall steward of the Fighters Guild branch in Velyn Harbor.
Dialogue
[
edit
]
During the Drublog invasion:
"We'll hold the Fighters Guild as long as we can."
After the invasion:
"You can find the Dominion's best warriors in our ranks. This is why you should join us!"
Velyn Harbor's had its share of excitement recently.
"Velyn Harbor's an important port all right, but if it's so damn important to the Dominion, where were the Green Hunters? Why is a place like Fuller's Break allowed to survive just up the coast?"
The Green Hunters? Who are they?
"The Green Hunters are agents of the Green Lady, who represents Bosmer physicality. They're her scouts, her warriors, and her enforcers.
They'd clean out Fuller's Break if they had a chance. Fiercer warriors never lived!"
What can you tell me about Fuller's Break?
"I've never been to Fuller's Break, but I hear it's a haven for smugglers, pirates, and thieves.
If I were the Ra Gada, I'd go there to recruit some of the less-savory types. And then the Green Hunters could just wipe them all out."
Joining the Fighters Guild through him:
"(?)"