Online:Khayradani
The UESPWiki – Your source for The Elder Scrolls since 1995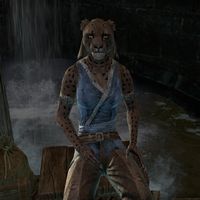 Khayradani is a Khajiit member of the group of outlaws found inside the refuge located beneath the city of Evermore. She sits on a stool on the wooden platform south of the waterway bisecting the refuge.
When spoken to, she says one of two lines:
"I admit it. I'm attracted to thieves and villains. That's why I like to hang around places like this. It's full of such interesting people. Are you an interesting person? I think you are. So which one are you? A thief, or a villain? I have to know!"
"You look like a real outlaw ... dangerous, desperate. I like dangerous. So, what do you say? Want to find a dark corner and show me how dangerous you really are? Come on ... you know you want to."