Online:Ilara
The UESPWiki – Your source for The Elder Scrolls since 1995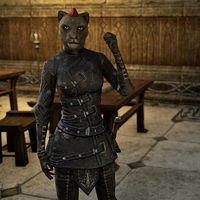 Ilara is a Khajiit student found at the College of Aldmeri Propriety.
Related Quests
[
edit
]
Dialogue
[
edit
]
Before accepting the related quest, she can be heard talking to Baham by the bridge leading to the College: "I have to go. If I'm late again, Malangwe threatened to throw me into the cave. I'll talk to you later, Baham." Inside the college, you can witness her being mistreated by Malangwe, one of the instructors:
Malangwe: "Tuck in your tail, soldier!"
Ilara: "This one did as you asked. Please!"
Malangwe: "Talking back? Maybe you need more time in the Cave? ... Ah. We have company. We'll continue this later."
If you talk to Ilara, she'll say:
"Ilara can't go to the Cave! Not again!"

Cave? What cave?

"Saltspray Cave. It's just north of campus, towards the beach. They throw us in to correct our behavior."

Why?

"Cruelty for the sake of cruelty, this one thinks. We don't get enough food. They mock us, beat us.
We're supposed to be training for the Thalmor, but they treat us like slaves."

Thank you for speaking with me.
After you get the medical supplies from Nurad during the quest, you will witness her being taken to the cave by Piromir and Malangwe:
Piromir: "Get up, Ilara. You are going to the Cave."
Ilara: "The Cave? Why? She didn't do anything! Don't put Ilara in there!"
Malangwe: "Special order from Tanion. Maybe this'll keep your shortie friend from getting out of line. Baham might make it out of here. You're just dead weight, cat."
Inside Saltspray Cave, she can be heard crying:
Ilara: "Why did you throw her in here? She did nothing wrong!"
Tanion: "You don't belong here, cat. None of you belong here!"
Later, she screams: "You'll never break us!" Kill the instructors, including Tanion, then meet Ilara. She is panickedly banging on the gate: "Ilara. She must get out. How does she get out? Dark Moon. Dull claws! Where am I? Let her out! Dark moons, let her out!" Talking to her, she is calmer:
"She just wants to get out of here."

It's all right. Tanion is dead.

"They were going to kill Ilara. Just for being what she is. How... how can I be anything other than Khajiit?"

It's over now. Let's get out of here.

"Yes, yes.
Thank you. This one is sure Baham is worried."
If you talk to her again before exiting the caves, she'll say, "Ilara. She just wants this nightmare to end." Outside the caves:
"She's just so glad to be out of that horrid place. Thank you. Thank you for what you did for Ilara."
After the quest is completed, she'll say, "Thank you. One day, perhaps Ilara's dreams will return. Return to normal."