Online:Piromir
The UESPWiki – Your source for The Elder Scrolls since 1995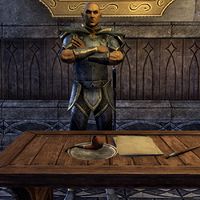 Piromir is an Altmer member of the Veiled Heritance group that infiltrated the College of Aldmeri Propriety. He is too busy to talk to you. During the related quest, he is first found holding a lecture to some Bosmer students:
Piromir: "Repeat the pledge again, class."
Piromir: "I can't hear you. Louder!"
Borchon and Doneth: "We protect the Dominion from her enemies. We give our lives in her defense. And we recognize the Altmer as our betters."
As the quest progresses, you will witness him and Malangwe taking Ilara to Saltspray Cave.
Piromir: "Get up, Ilara. You are going to the Cave."
Ilara: "The Cave? Why? She didn't do anything! Don't put Ilara in there!"
Later, he is found in the cave along with Malangwe, now both of them hostile.
Related Quests
[
edit
]