Online:Elenabi
The UESPWiki – Your source for The Elder Scrolls since 1995
Elenabi
Location
Fishing camp southwest of Mistral
Race
Khajiit
Gender
Female
Health
25974
Reaction
Justice Neutral
Pickpocket
Easy
Profession
Fisher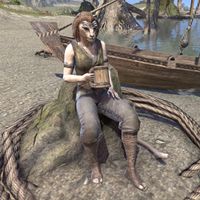 Elenabi is a Khajiit fisherwoman on the western beaches of Khenarthi's Roost, at a fishing camp southwest of Mistral and north of the Online:Windcatcher Plantation. She is disdainful of her companion's decision to attempt to rescue a drowned sailor:
"Anat fishes up an Elf! "Throw it back!" this one says, "You cannot eat it. You cannot use it as bait. What good is an Elf?"
What does he do? He keeps it! If it dies, Elenabi will never hear the end of it!"