Online:Elanwe
The UESPWiki – Your source for The Elder Scrolls since 1995
Elanwe
Location
Inside Belarata
Race
Ayleid
Gender
Female
Health
127470
Difficulty
Reaction
Neutral
Other Information
Condition
Spirit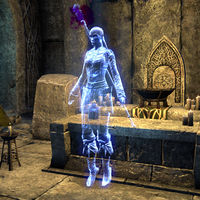 Elanwe is an Ayleid spirit, in life called "Lady of the Weald". In death she waits in Belarata for her long-lost love, Varondil. She initially mistakes Jurak-dar for him, giving him gifts and trying to keep him from leaving, due to the fact that he carries Varondil's sword. Varondil himself will reveal that he and Elanwe were together for nine years before he died fighting in an uprising; she summoned his spirit, but didn't realize it was him, and has been waiting ever since. She will recognize him when he brings his sword to her himself, however, and at last her spirit can be put to rest. Alternatively, you can fight her to banish her from the ruins.
Related Quests
[
edit
]
Dialogue
[
edit
]
When Jurak-dar approaches her:
Jurak-dar: "I have returned, my love!"
Elanwe: "My love? I cannot... your sword! Where is..."
Jurak-dar: "You are tired! Let me come closer!"
Elanwe: "You are not Varondil! Get back!"
Jurak-dar: "Augh!"
If you give Varondil the sword, he thanks you and approaches the spirit of Elanwe.
Varondil: "Elanwe, at long last I return."
Elanwe: "Varondil? You have been gone only a day. It feels like an age."
Varondil: "Each day is an age."
Elanwe: "Yes, true, but you…where have you been?"
Varondil: "It is a long story, but come! Aetherius awaits!"
Elanwe: "Yes, together forever, as was always meant to be."
Elanwe's Grave is a miscellaneous location in Blades.