Online:Captain Verus
The UESPWiki – Your source for The Elder Scrolls since 1995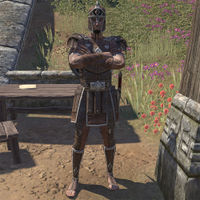 Captain Verus is an Imperial and one of Hakoshae's guards.
Related Quests
[
edit
]
Quest-Related Dialogue
[
edit
]
You will need to distract him while Ashur pick pockets him for the cellar key.
"Greetings. Say, aren't you the traveler who joined the Proving Festival?"
I'm the traveler who completed the Proving Festival.
"Are you now? Well, that's certainly an impressive feat.
Honestly, this whole affair has been nerve-wracking for me. I'm not too keen on dishonoring my ancestors. Who knows what misfortune would befall me?"
Were you able to complete the Three Proofs?
"To be honest? Barely. The first two Proofs were easy enough. Threw a paper lotus in the river, grabbed a sugar daisy for Vek-Drassi.
But that last Proof, well, it stumped me. Couldn't for the life of me figure out the riddle."
How did you solve it?
"I'll admit it, I had a little help.
Magnate Feina-Darak gave me a hint. She's a gracious lady, our magnate. Always helping out folks in need. I'm not sure how Hakoshae would fare without her."
I see. Well, I'd best be off.
"Let's just keep that little story between us, yeah? Wouldn't want my mother to hear about it. She'd chew my ear off."
Dialogue
[
edit
]
Outside the quest, he will be happy about the reduction in crime:
"The Proving Festival has certainly made my job easier. With so many of the town's residents worrying about their ancestors, everyone's been on their best behavior."