Online:Captain Drusus
The UESPWiki – Your source for The Elder Scrolls since 1995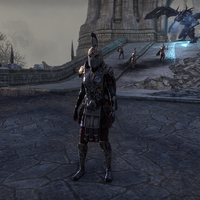 Captain Drusus is an Imperial soldier of the Imperial Legion guarding the eastern Imperial City bridge.
Dialogue
[
edit
]
When approached, she will yell "Stop! You can't cross! Molag Bal's demons rampage in the Imperial City!"
If you talk to her, she will elaborate:
"Until we take back the Imperial City, no one crosses this bridge!"
What's happening?
"Absolute chaos is what's happening. We're cut off from the island, but we're not going to let those monsters out. All Imperial troops have been recalled to the city to fight Molag Bal's forces."
How is it going?
"I wish I knew. We came from Kingscrest to help retake the city. When we got here, the bridge was destroyed and monsters were coming out of that Dark Anchor. We've been trying to hold on ever since."