Online:Blivisi Beleth
The UESPWiki – Your source for The Elder Scrolls since 1995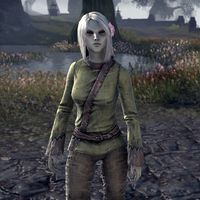 Blivisi Beleth is a Dunmer merchant who initially can be encountered on the road near Selfora or Eidolon's Hollow if you haven't completed the story quests in Mournhold. If you approach her, she will ask for your help. She is Gendyn Beleth' sister.
Related Quests
[
edit
]
Quest-Related Events
[
edit
]
She will approach you.
"Did my brother send you? I've been expecting a shipment for more than a week now.
I think you have me confused with somebody else.
"Damn it all to Skyrim and back! I don't understand what's delaying my shipment. Artisans Craftworks has such a good reputation—and my own brother runs the place! Without that shipment, I'm ruined. Could you help me?"
What do you need me to do?
"My brother Gendyn oversees the forge at Artisans Craftworks. It's the largest smithy in Mournhold! He promised me he'd take care of my order personally, but something must have gone wrong. Could you deliver this letter to my brother in Mournhold?"
I'll deliver your letter.
At this point, you can ask her more about her dilemma.
"Please. You need to get that order to my brother in Mournhold as soon as you can."
Tell me more about your brother.
"Gendyn? I'm so proud of my big brother! He moved to the big city and in no time at all he was practically running the place!"
And what does he do in Mournhold again?
"He oversees the forge at Artisans Craftworks. It's the best smithy in Mournhold!
Gendyn promised he'd get me a great price on the goods I need to keep the family business open. He must have lost the order or something. That's the only explanation!"