Online:Afneer Cold-Moon
The UESPWiki – Your source for The Elder Scrolls since 1995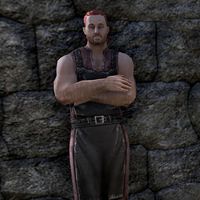 Afneer Cold-Moon is a Nord stablemaster who runs the Cold-Moon Fine Steeds stables in Windhelm. He sets up Coldharbour Mounts in the Hollow City once the city is restored.
Dialogue
[
edit
]
Windhelm
[
edit
]
If spoken to while in Windhelm, he will welcome you to the stable.
"Welcome to Windhelm and to the finest stable in the city! We also run the best inn, if that's what you're looking for. It's right over there."
The Hollow City
[
edit
]
Afneer will also find his way to Coldharbour.
"I left my family back in Windhelm to come here. I hope I don't live to regret it."
Why do you think Molag Bal leaves the Hollow City alone?
"The legend says that Meridia herself pushed this city into Coldharbour and placed spells around it to keep it safe from the Lord of Brutality.
But maybe he just doesn't want to come to this neck of the woods."