Oblivion:Horse Armor Pack
The UESPWiki – Your source for The Elder Scrolls since 1995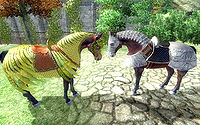 The Horse Armor Pack is an official download that allows you to outfit any owned horse with a set of protective armor. Horse armor is purchased from Snak gra-Bura at the Chestnut Handy Stables outside of the Imperial City. Each set of horse armor costs 500 gold, and comes in Elven and Steel varieties. The two styles are simply cosmetic, and a horse with one armor style can be outfitted with the other by returning to Snak and paying the fee again. Armor can only be given to horses that you own.
As part of the related quest, the first set of armor can be obtained for free. If you don't own a horse, Snak gra-Bura will offer her Old Nag free of charge, although even with armor the nag is the weakest horse in the game. Putting armor on the horse simply increases the health of the horse rather than applying any kind of protection from damage. For most horses the health doubles, but only to a maximum value of 750. See the Horses page for full information.
The Horse Armor Pack for Oblivion gives you the ability to outfit your favorite horse with a set of stylish armor. Snak Gra-Bura of the Chestnut

Hand 

[sic] Stables outside of the Imperial City has recently opened her new business and she's making horse armor available to the adventurers of the Imperial Province. You can choose elegant elven armor or durable steel to protect your mount from the dangers of Cyrodiil. —Former Official Summary
Tamriel is a dangerous place. Protect your horse from danger with this beautiful and resilient armor. —Official Summary
Gameplay Information
[
edit
]
Quest Information — How to receive a free set of horse armor, or even a free horse.
Creatures — 8 armored variants of horses are introduced with the download, in both Elven armor and Steel armor variations.