Oblivion: Auroran
The UESPWiki – Your source for The Elder Scrolls since 1995
This page or section is incomplete. You can help by adding to it.
Needs complete statistics and standard creature tables
For more information, see the help files, the style guide, and this article's talk page.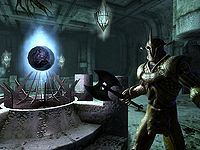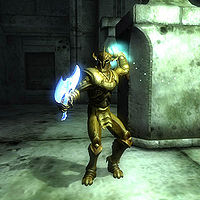 Aurorans are leveled Daedra from the realm of Meridia added by the Knights of the Nine official plug-in. They are commanded by Umaril the Unfeathered, and share his desire to destroy the Nine Divines. During the quest Umaril the Unfeathered, the Aurorans that you meet inside Garlas Malatar will continually be resurrected until the dark orb is destroyed.
Found:

They are encountered several times trying to desecrate chapels
They will also found at Garlas Malatar during the quest Umaril the Unfeathered, and after completing the Knights of the Nine questline.

Weapons and Armor: They always carry an Ayleid Battle Axe, which has a leveled Shock Damage enchantment. Their armor cannot be looted.
Magic: They have 25% magic resistance and 50% shock resistance. They use two lesser powers which are:

Light that Burns: Shock Damage accompanied by Light. The amount of damage is level dependent (varying from 1 pt for 10 secs to 6 pts for 10 secs).
Light that Protects: a Shock Shield (magnitude varies from 10% to 30%).

Items: Their bodies have a Daedra Heart. They have a 25% chance of carrying each of the following items:

a leveled piece of jewelry.
a leveled gem. This may include Welkynd Stones.
an empty soul gem.
a filled soul gem.
Creature
Level
Carries
Attacks
Soul

Auroran




xx

000F8D




xx

000F92




xx

000FA5

1-5
Daedra Heart
Leveled Ayleid Battle Axe
Jewelry (25%)
Empty Soul Gems (25%)
Filled Soul Gems(25%)
Gems(25%)
20×
(lvl-2)
50
25

Light that Burns (Light 20pts for 10sec on Touch, Shock Damage 1pt for 10sec on Touch)
Light that Protects (Shock Shield 10pts for 30sec on Self)
Melee with Leveled Ayleid Battle Axe
7+((lvl-2)/2) pts melee, unarmed

LesserL:-2

Auroran




xx

000F8C




xx

000F91




xx

000FA6

7
Daedra Heart
Leveled Ayleid Battle Axe
Jewelry (25%)
Empty Soul Gems (25%)
Filled Soul Gems(25%)
Gems(25%)
140
50
25

Light that Burns (Light 20pts for 10sec on Touch, Shock Damage 3pt for 10sec on Touch)
Light that Protects (Shock Shield 15pts for 30sec on Self)
Melee with Leveled Ayleid Battle Axe
12 pts melee, unarmed

Lesser

Auroran




xx

000F8B




xx

000F90




xx

000FA4

11
Daedra Heart
Leveled Ayleid Battle Axe
Jewelry (25%)
Empty Soul Gems (25%)
Filled Soul Gems(25%)
Gems(25%)
220
50
25

Light that Burns (Light 20pts for 10sec on Target, Shock Damage 4pt for 10sec on Target)
Light that Protects (Shock Shield 20pts for 30sec on Self)
Melee with Leveled Ayleid Battle Axe
15 pts melee, unarmed

Common

Auroran




xx

000F8A




xx

000F8F




xx

000FA3

15
Daedra Heart
Leveled Ayleid Battle Axe
Jewelry (25%)
Empty Soul Gems (25%)
Filled Soul Gems(25%)
Gems(25%)
320
50
25

Light that Burns (Light 20pts for 10sec on Target, Shock Damage 5pt for 10sec on Target)
Light that Protects (Shock Shield 25pts for 30sec on Self)
Melee with Leveled Ayleid Battle Axe
18 pts melee, unarmed

Common

Auroran




xx

000F89




xx

000F8E




xx

000FA2

21+
Daedra Heart
Leveled Ayleid Battle Axe
Jewelry (25%)
Empty Soul Gems (25%)
Filled Soul Gems(25%)
Gems(25%)
21×
(lvl-2)
50
25

Light that Burns (Light 20pts for 10sec on Target, Shock Damage 6pt for 10sec on Target)
Light that Protects (Shock Shield 30pts for 30sec on Self)
Melee with Leveled Ayleid Battle Axe
10+((lvl-2)/2) pts melee, unarmed

CommonL:-2