Morrowind:Eraldil
The UESPWiki – Your source for The Elder Scrolls since 1995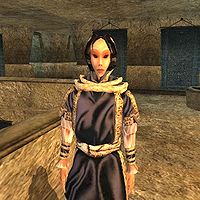 Eraldil is a Wood Elf savant who can be found in the Waistworks of the Hlaalu canton in Vivec. She is the target of the amorous intentions of a certain Dunmer trader.
Eraldil wears an extravagant shirt with a matching skirt and pair of shoes. Aside from her natural resistance to disease, and the ability to command animals, she knows no spells.
Related Quests
[
edit
]
Quest-Related Dialogue
[
edit
]
Gadayn Andarys
"That lowly Hlaalu trader? He's ridiculous."
love letter
"He thinks I might be interested in him? Ha! That's a ridiculous notion. The very thought...insane. I mean, has he seen himself in a mirror lately? I'm sure he's a decent enough sort, but that's ridiculous. He might be more suited for my cousin Glathel. She's low-born, plain, and desperate for a husband. But me? You can tell Gadayn that you've spoken to Eraldil, and she's not interested!"
Glathel
"She's a decent, if rather common sort. I mean, I don't have much to do with her. She's rather plain, not too bright. But she's not a bad person, for what she is. You can find her at the Elven Nations Cornerclub. She's a serving girl."
If you decide to give her the love potion:
apology from Gadayn
"He wishes to apologize? How very noble. But, at least he sent a gift along, which is certainly appropriate. Well, I'm sure I'll have use for it sometime, although it's probably not even of good quality."
If she becomes Gadayn's wife:
Gadayn Andarys
"That husband of mine? He's cheap, pathetic, stupid, lazy, messy, uncaring, clinging, and rather smelly. But I love him!"