Lore:Granite Hill
The UESPWiki – Your source for The Elder Scrolls since 1995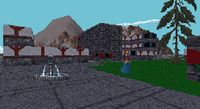 Granite Hill (also known as Quethsegol Ahrol in the Dragon Language[1]) is a region located east of Sungard and far north of the town of Falkreath. The town of Granitehall takes its name from the region.[2]
Granite Hill was historically a notable settlement, having been in existence since the time of the Dragon Cult.[3] During the reign of Jarl Gjalund of Whiterun, it was part of Whiterun Hold and consisted of three farms and an inn, and held a weekly market.[1] At some point the region came under the administration of Falkreath Hold.
During the Imperial Simulacrum in the late Third Era, the town of Granitehall was an active settlement, being ruled by Duke Fenrald. It had a rivalry with Oakwood and Karthwasten Hall.[2] It was neighbored by several settlements, including Karthwasten Hall in the northwest, and North Keep in the southeast.[4] By 4E 201 Granite Hill continued to pay taxes to Falkreath and had its own emissary.[5] The dragon Vuljotnaak, who was buried near Granite Hill,[3] was resurrected by Alduin upon his return.[6]
References
[
edit
]
^ a b Granitehall location and rumors in Arena