Lore:Caldera
The UESPWiki – Your source for The Elder Scrolls since 1995
This page is currently being redesigned for the Lore Places Project (LPP).
The page may need work to meet the standards outlined on the project page.
This page or parts of this page were previously transcluded to other pages per this discussion.
This page should be checked for potential unrelated lore and other information. Please remove this banner when the page has been cleaned up.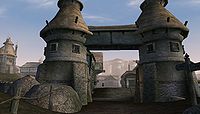 Caldera was an Imperial charter town just north of Balmora. It was built to service the nearby Ebony mine, providing the miners with homes, entertainment, and other services. The town was ruled largely from the Caldera Mining Company's fortress to the northeast.
The buildings, which had Imperial and Nordic architectural influences, formed an inverse "L" shape between two large guard towers. While Dunmer presence in Caldera was almost non-existent, a large contingent of Orcs lived in the dilapidated Ghorak Manor (along with an unusual Scamp who was a merchant and claimed the house was his). Notable institutions in Caldera included an Imperial Cult altar, a Mages Guild branch, two general merchants, a blacksmith, a tavern, and one of the few Imperial-style clothiers in Vvardenfell.
A Redoran Garrison was present at the town's future location in 2E 582, where many meetings between house councilors were held. The ebony mine, during the late Third Era, was operated on land claimed by House Redoran, while the mine was administered by House Hlaalu, who had a stranglehold on all of the East Empire Company's business interests on Vvardenfell. This was the cause of a great deal of friction between these two great houses.
Gallery
[
edit
]
See Also
[
edit
]