Blades:Enchanter's Tower
The UESPWiki – Your source for The Elder Scrolls since 1995
To meet our site's higher standard of quality, this article or section may require cleanup.
The user who placed this here had the following concern:
Tables incomplete, data for levels 6-10 needed, data for shop needed
To leave a message about the cleanup for this article, please add it to this article's talk page.
The Enchanter's Tower is a Town building used to enchant weapons and armor. It is available at town level 4 and is owned and operated by Severio Scerius.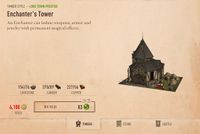 Enchanter's Tower
[
edit
]
Here are the costs to upgrade the base Timber Enchanter's Tower.
| Level | Limestone | Lumber | Copper | Gold | Build Time | Destroy Cost |
| --- | --- | --- | --- | --- | --- | --- |
| 1 | 76 | 89 | 56 | 6,100 | 2H | 300 |
| 2 | 63 | 76 | 47 | 9,700 | 30M | 300 |
| 3 | 98 | 118 | 73 | 15,460 | 1H | 300 |
| 4 | 132 | 160 | 99 | 24,675 | 2H | 300 |
| 5 | 154 | 186 | 115 | 39,420 | 4H | 300 |
| 6 | 221 | 266 | 165 | 63,010 | 8H | 3,000 |
| 7 | 315 | 380 | 235 | 100,755 | 16H | 3,000 |
| 8 | 536 | 646 | 400 | 162,500 | 1D 8H | 3,000 |
| 9 | 756 | 912 | 564 | 257,780 | XM | - |
| 10 | 1485 | 1710 | 1320 | 412,390 | 5D 8H | - |
Enchant
[
edit
]
Enchantment Costs
[
edit
]
| Level | Petty | Lesser | Middling | Common | Exceptional | Greater | Elevated | Grand | Glorious | Transcendent | Ingredient | Gold | Time |
| --- | --- | --- | --- | --- | --- | --- | --- | --- | --- | --- | --- | --- | --- |
| 1 | 1 | | | | | | | | | | 3 | 380 | 8m |
| 2 | 2 | 1 | | | | | | | | | 9 or 12 | 700 or 870 | 20m |
| 3 | 4 | 2 | 1 | | | | | | | | 16 | 1440 | 30m |
| 4 | | 4 | 2 | 1 | | | | | | | 24 or 30 | 2720 or 3400 | 40m |
| 5 | | | 4 | 2 | 1 | | | | | | 31 | 4640 | 50m |
| 6 | | | | 4 | 2 | 1 | | | | | 37 or 47 | 7360 or 9200 | 60m |
| 7 | | | | | 4 | 2 | 1 | | | | 44 | 11040 | 80m |
| 8 | | | | | | 4 | 2 | 1 | | | 52 or 65 | 15600 | 100m |
| 9 | | | | | | | 4 | 2 | 1 | | 59 | 31800 | 120m |
| 10 | | | | | | | | 4 | 2 | 1 | 65 or 82 or 99 |  ? |  ? |
Primary Enchantments
[
edit
]
Type
Ingredient
Levels
Boots
Armor
Helm
Gauntlets
Shield
Light
Versatile
Heavy
Fire
Fire Salts
Odd
+X Fire Resistance
Increase fire damage by X
Does X fire damage to Health ...
Does X fire damage to Health
1:+12, 3:+17, 5:+22, 7:+27, 9:+32
1:4, 3:5, 5:7, 7:8, 9:9
1:29, 3:40, 5:51, 7:62, 9:73
1:21, 3:29, 5:37, 7:45, 9:54
1:24, 3:34, 5:44, 7:53, 9:63
1:29, 3:40, 5:51, 7:62, 9:73
Frost
Frost Salts
Even
+X Frost Resistance
Increase frost damage by X
Does X frost damage to Health and Stamina ...
Does X frost damage to Health and Stamina
2:+13, 4:+17, 6:+21, 8:+25, 10:+29
2:4, 4:5, 6:6, 8:7, 10:8
2:29, 4:38, 6:48, 8:57, 10:67
2:21, 4:28, 6:35, 8:42, 10:49
2:25, 4:33, 6:41, 8:49, 10:57
2:29, 4:38, 6:48, 8:57, 10:67
Shock
Void Salts
Odd
+X Shock Resistance
Increase shock damage by X
Does X shock damage to Health and Magicka ...
Does X shock damage to Health and Magicka
1:+11, 3:+15, 5:+19, 7:+23, 9:+27
1:3, 3:5, 5:6, 7:7, 9:8
1:24, 3:34, 5:43, 7:53, 9:62
1:18, 3:25, 5:32, 7:38, 9:45
1:21, 3:29, 5:37, 7:45, 9:53
1:24, 3:34, 5:43, 7:53, 9:62
Poison
Deathbell
Even
+X Poison Resistance
Increase poison damage by X
Does X poison damage to Health ...
Does X poison damage to Health
2:+15, 4:+20, 6:+24, 8:+29, 10:+33
2:5, 4:6, 6:7, 8:9, 10:10
2:34, 4:45, 6:57, 8:68, 10:80
2:25, 4:33, 6:41, 8:50, 10:58
2:29, 4:39, 6:48, 8:58, 10:67
2:34, 4:45, 6:57, 8:68, 10:80
Health or Combat
Imp Stool
Odd
+X Maximum Health
Restores Health by damage done ...
Target stunned by a blocked attack takes X extra damage while stunned
Increase combo damage by X
Increase attack speed by X%
Increase damage against blocking targets by X
1:+57, 3:+75, 5:+95, 7:+119, 9:+132
1:2, 3:3, 5:3, 7:4, 9:4
1:18, 3:26, 5:33, 7:40, 9:47
1:32, 3:45, 5:57, 7:70, 9:82
1:7, 3:11, 5:15, 7:19, 9:23
1:57, 3:79, 5:101, 7:124, 9:146
Stamina
Honecomb
Even
+X Maximum Stamina
Restores Stamina by damage done ...
Does X damage to Stamina ...
Does X damage to Stamina
2:+65, 4:+85, 6:+107, 8:+125, 10:+145
2:6, 4:8, 6:10, 8:12, 10:14
2:110, 4:147, 6:183, 8:220, 10:256
2:66, 4:88, 6:110, 8:132, 10:154
2:87, 4:116, 6:144, 8:173, 10:201
2:110, 4:147, 6:183, 8:220, 10:256
Magicka
Glow Dust
Even
+X Maximum Magicka
Restores Magicka by damage done ...
Does X damage to Magicka ...
Does X damage to Magicka
2:+65, 4:+85, 6:+107, 8:+125, 10:+145
2:6, 4:8, 6:10, 8:12, 10:14
2:110, 4:147, 6:183, 8:220, 10:256
2:66, 4:88, 6:110, 8:132, 10:154
2:87, 4:116, 6:144, 8:173, 10:201
2:110, 4:147, 6:183, 8:220, 10:256
Bonus Enchantments
[
edit
]
| Enchantment | Value | Items |
| --- | --- | --- |
| Improves main enchantment by X% | 6, 16 | Any |
| Fire damage is X points more effective at Burning | 6 | Weapons |
| Frost damage is X points more effective at Freezing | 6 | Weapons |
| Shock damage is X points more effective at Draining | 6 | Weapons |
| Poison damage is X points more effective at Poisoning | 6 | Weapons |
| Converts up to X physical damage done to fire damage | 15, 30 | Shields, Weapons |
| Converts up to X physical damage done to frost damage | 15, 30 | Shields, Weapons |
| Converts up to X physical damage done to shock damage | 15, 30 | Shields, Weapons |
| Converts up to X physical damage done to poison damage | 15, 30 | Shields, Weapons |
| Reduce Target's maximum Magicka by X | 17 | Shields, Weapons |
| Reduce Target's maximum Stamina by X | 17 | Shields, Weapons |
| Increases duration of elemental conditions on target by X% | 16 | Weapons |
| Increases physical damage by X against targets suffering a condition | 9 | Gauntlets |
| Physical damage ignores X points of target's Armor Rating | 54 | Gauntlets |
| +X Resistance to physical damage while health is critical | 12, 16, 17 | Armor |
| +X Resistance to elemental damage while health is critical | 4, 6, 7 | Armor |
| +X Spell resistance | 6, 8 | Armor |
| +X Bashing resistance | 6, 8, 11 | Armor |
| +X Cleaving resistance | 6, 8, 11 | Armor |
| +X Slashing resistance | 6, 8, 11 | Armor |
| Shortens elemental conditions by X% | 16 | Armor |
| Increases healing effects from potions, food, and skills by X | 6, 8, 12, 15 | Armor |