Arena:Windhelm
The UESPWiki – Your source for The Elder Scrolls since 1995
"Let all who enter Windhelm know of us. We laugh at death and thirst for life. Be not afraid, but instead enter bravely and live well..."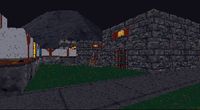 Windhelm is a city-state located in eastern Skyrim, near the border of Morrowind. The ruler is King Asgan. Its rivals are Riften and Winterhold.
Locations
[
edit
]
Inns

Black Mug
Black Skull
Blue Djinn
Dancing Jug
Dancing Mug
Devil's Golem
Green Dragon
Green Giants
Howling Bird
Laughing Giants
Laughing Griffin
Queen's Bird
Queen's Huntsman
Red Sword
Restless Giants
Silver Cup
Thirsty Huntsman
Unfortunate Djinn

Temples

Brotherhood of Justice
Brotherhood of War
Conclave of Charity
Conclave of Justice
Order of the Knights of Hope

Stores

<random>'s Quality Provisions
<random>'s General Accouterments
Elite Armaments
Elite Merchandise
Elite Weaponry Store
<random>'s Finest Merchandise
<random>'s Finest Tool Store
<random>'s Professional Supply Store
<random>'s Tool Store
New Merchandise
Rare Accouterments
Rare Equipment Store
The Adventurer's Accouterments
The Basic Merchandise
The Practical Accouterments
The Practical Sundries
The Wyrm's Supply Store
The city-state Gear Store
The city-state Supply Store
<random>'s General Tool Store
<random>'s Quality Sundries
Unearthed Equipment Store
Unearthed Merchandise
Unearthed Sundries
Used Gear Store
Vintage Provisions
Windhelm is a possible starting location for Nords.