Arena:Riften
The UESPWiki – Your source for The Elder Scrolls since 1995
"Riften bids you welcome. We call this our home. Let those who challenge be wary..."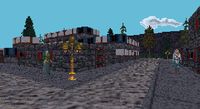 Riften is a city-state located in the southeastern corner of Skyrim, near the border of Morrowind. The ruler is King Bjis. Its rival is Windhelm.
Locations
[
edit
]
Inns

Black Jug
Black Ogre
Blue Golem
Crimson Golem
Flying Chasm
Flying Griffin
Flying Pit
Gold Goblin
Gold Golem
Green Chasm
Green Dagger
Haunted Cup
Howling Skull
Lucky Giants
Lucky Huntsman
Queen's Dungeon
Restless Castle
Screaming Eagle
Screaming Skull
Thirsty Dragon
Thirsty Dungeon
Thirsty Guard
Thirsty Skull
White Dragon
White Griffin

Temples

Brotherhood of Faith
Brotherhood of Seth
Brotherhood of Temperance
Conclave of Faith
Conclave of Solitude
Conclave of the One
Order of the Knights of Hope
Order of the One Prophet

Stores

<random>'s Quality Gear Store
<random>'s Gear Store
New Provisions
Rare Provisions
<random>'s Gear Store
The Basic Tool Store
The Practical Provisions
The Practical Tool Store
<random>'s Equipment Store
Unearthed Armaments
Unearthed Provisions
Used Sundries
Riften is a possible starting location for Nords.