Skyrim:Merilar Rendas
The UESPWiki – Your source for The Elder Scrolls since 1995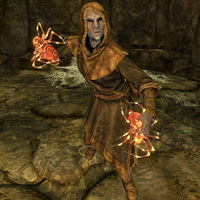 Merilar Rendas is a Dunmer sorceress living in White Ridge Barrow.
She and her brother Servos Rendas discovered how receptive Solstheim's albino spider is to magic when exposed to rubies. Merilar was driven insane by the power and by the strange fumes emitted by their experiments, and locked her brother in a cage to die. She is hostile and will throw jumping flame spiders at you.
Merilar wears novice robes of alteration along with a novice hood and a pair of boots. In addition to her jumping flame spiders, she carries her journal, a glass dagger and a key.