Skyrim:Kodrir
The UESPWiki – Your source for The Elder Scrolls since 1995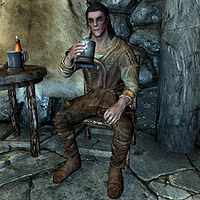 Kodrir is a Nord lumberjack who lives and works at Anga's Mill. He works with Leifur for the owner of the mill, Aeri. He sleeps in Anga's Mill Common House.
He wears a belted tunic and a pair of boots. He is equipped with an iron dagger, and carries a key to the common house as well as a selection of lower-class items and gold.
He gets up at 7am to start eating his breakfast and does so for one hour. Then he goes out to the mill where he works chopping wood, sharpening axes, and running for water. After a whopping twelve hours of work, he heads home to eat dinner, then he finally goes to bed at midnight.
Dialogue
[
edit
]
He's very unfriendly towards strangers, and will make this very clear when speaking with you.
"Strangers are always trouble."
"I don't need to talk to you. Get lost."
Conversations
[
edit
]
He can sometimes be seen conversing with his co-worker Leifur:
Leifur: "Whatever happened to Ennodius? He just up and left."
Kodrir: "Don't know why you're asking me. But I'm glad that damn Imperial is gone. Something wrong about him."
Leifur: "You're all heart, Kodrir. I bet Lady Mara is weeping a special tear for you right now."
Kodrir: "I swear that woman Aeri doesn't appreciate all the work I do for her damn mill."
Leifur: "Oh, I've heard this one before. Watch out Divines, poor Kodrir curses you all for giving him life!"
Kodrir: "Watch your mouth with me you pup! Who do you think you are?"
Leifur: "The man doing your job?"
Kodrir originally played a role in small quest involving a special bottle of skooma.