Shivering:Corpserot Passage
The UESPWiki – Your source for The Elder Scrolls since 1995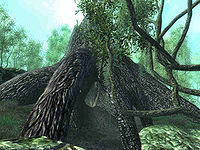 Corpserot Passage is a small cave south of The Fringe containing Grummites where the law-breakers of Dementia are sent. It contains only one zone, Corpserot Prison.
It is a prison guarded by Grummites, similar to Aichan. This is where the Dark Seducers will throw you if you are arrested.
Related Quests
[
edit
]
This cave contains 1 Screaming Maw plant, 1 Thorn Hook plant, 6 Root Stalk plants, and 17 Withering Moon plants.
To get past root door H you must commit a crime in Crucible then go to jail. You will appear in the sealed-off section beyond the root door.
Exterior
[
edit
]
Zone 1: Corpserot Prison

[

edit

]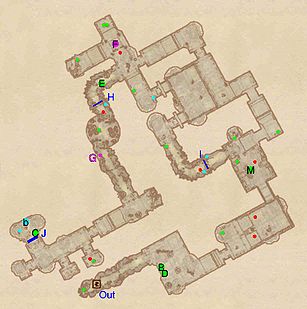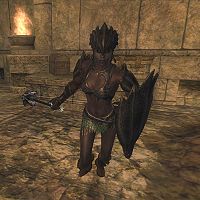 After being arrested you will find yourself near the bedroll at b, in the depths of Corpserot Prison, stripped of all of your weapons and armor. Pick up a weapon from the nearby urn at C and press the push block (cyan dot on map), which will lower the wall at J. Keep going, looting the chest for useful equipment and avoiding the spore pod trap until you arrive at an intersection. The roots at H are easily opened and make sure to pick up the Mute Screaming Maw at E.
Continuing eastwards is the easiest way out, but you will miss out on most of the treasure, so head north instead, taking heed of the Trapped Floor ahead of you at F. Jumping across it, you will gain access to a few urns; while falling down will net you nothing but a healing urn. Whatever direction you take at the next intersection, you will end up in the same room with a Madness Ore Deposit at M, and will be able to backtrack the other way.
Before opening the final metal door, heal all you can and prepare yourself for a potential fight against the guard of the prison. The Evidence Chest is across the room at D, so make an attempt to sneak over to it and claim your belongings before the fight; otherwise, quickly run over there during the fight and equip yourself. Dispose of the guard, loot the boss-level chest at B, then proceed through the root tunnel to your freedom at Out.
Occupants:
1 Grummite (Dementia; group list)
3 Grummites (Dementia, always best possible level)
3 archer Grummites (Dementia; group list)
Treasure:
Traps:
Doors and Gates:
There is one door (at Out) in/out of this zone, leading outside
2 Twisted Roots (opened remotely) at H and I
1 Secret Wall at J
Other:
1 bedroll at location b on map