Online:Thaloril
The UESPWiki – Your source for The Elder Scrolls since 1995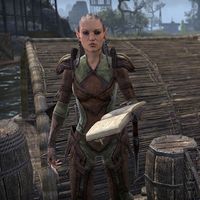 Thaloril is a Bosmer guild trader who can be found in Lilmoth. She has being trying to improve her stall according to her tastes but her guild disapproves.
"I'm trying to convince the guild I work for to liven up the shop's name. Something like … Wading in Wares. Oh, oh! Muck and Merchandise! That's a good one."
"This stall needs more colors, I've told my guild a hundred times! Maybe some bright yellow. I mean, who doesn't like yellow?"
"Created a little jig to help attract customers! The guild I work for though, they weren't so keen on it. Said it was unprofessional. Bah. What do they know?"