Online:Speaks-with-Leaves
The UESPWiki – Your source for The Elder Scrolls since 1995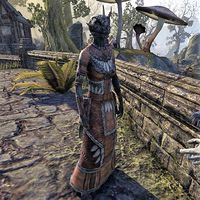 Speaks-with-Leaves is an Argonian who can be found in Quarantine Serk, in the Brooding Elf Inn. She is attempting to find a bed for her master, Tullas. After completing Quest for the Cure you'll find them both outside the inn. She cannot be spoken to, but you can hear her having conversations in the world.
Dialogue
[
edit
]
Before curing the plague:
Speaks-with-Leaves: "Have any beds become available? My lord is terribly ill and needs to rest."
Sava Oloth: "The situation is the same as it was the last time you inquired. You're welcome to remain here, or feel free to move into the next hall for a hot meal and a cool drink."
She will occasionally walk over to Full as and kneel beside him.
Speaks-with-Leaves: "Don't worry, my lord. I'll make sure you get a dose of the curative."
After curing the plague:
Speaks-with-Leaves: "My lord, please. You need to rest!"
Tullas: "Nonsense! Exercise and fresh air will do me good. But I do appreciate the care you showed me while I was ill."
Speaks-with-Leaves: "Did you really thank me? Now I know the sickness has gone to your head!"