Online:Rothondothrin
The UESPWiki – Your source for The Elder Scrolls since 1995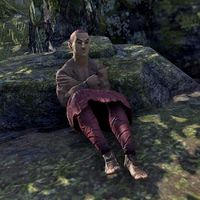 Rothondothrin is a Bosmer chef working at the Overlook Inn, the inn located in the city of Firsthold.
Meeting him outside Firsthold before freeing the city of the daedra, he'll say, "There's no hope for it! The city's lost. Might as well start looking to move to Skywatch."

What is this place?

"Firsthold is where High Kinlord Rilis XIII rules over Auridon. While Skywatch is the capitol, he's chosen to stay here due to the close proximity of his ancestral family home, Castle Rilis."

What can you tell me about Castle Rilis?

"It's where High Kinlord Rilis' father ruled and most of the family is now buried."
Meeting him at the inn after the siege, he'll say, "It's good to be back at a fire pit. Cooking's what I know. It keeps me calm."