Online:Lenor
The UESPWiki – Your source for The Elder Scrolls since 1995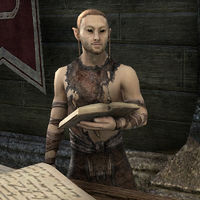 Lenor is a Bosmer pack merchant who can be found at his shop, Plentiful Packs, in Haven. Talking to him, he'll say one of the following:
"With the invaders routed, you never know what you'll find in the aftermath! And what's more, you never know when you'll need a bag to put it in! I'm your Elf. Lenor, the bag Elf! Remember me, and come to me with all your bagging needs!"
"Y'ffre's beard, the bags those Nordmen carry are heinous. They stink of old mammoth cheese and sour mead. I can guarantee you nothing I am intending to sell you will smell like this. You must simply trust me on that."
"There's one thing that's always true, in peacetime or wartime - everyone needs something to stash their junk in! I'm helping the recovery effort in my own way—through surer, sturdier bags to haul things off. If you need better bags, I'm your Elf!"