Online:Kallin
The UESPWiki – Your source for The Elder Scrolls since 1995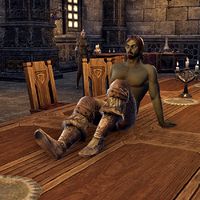 Kallin is a Dunmer who voluntarily serves House Ravenwatch as blood source.
Dialogue
[
edit
]
Entering Ravenwatch Castle, you find Verandis and Gwendis at the dinner table... feeding on Kallin, one of the servants of House Ravenwatch. Verandis is trying to teach better table manners to his protege: "Gwendis, my child, slow down. You eat too fast. You don't want to harm poor Kallin."

Gwendis: "We need to feed to get stronger. When Montclair shows up, I want to be ready."

Verandis: "That is not our way, child, and you know it. Stop feasting! Now!"

Gwendis: "Fine. Whatever. I mean... I'm sorry Count Verandis. You know I really want to help."

Verandis: "Of course, my child. Now, let's clear away our meal and welcome our friend. Kallin, as always, I thank you for sharing your life's blood with us."

Kallin: "I live to please, my lord."
Addressing him after the Ravenwatch family meal, he states:
"Count Verandis is a kind and caring master. I am grateful for everything he's done for me."
But Verandis and his friends drink your blood.
"Yes, and I am honored to share my life blood with them! And in exchange, they take care of me, provide for my every need. They treat me well. All in all, I'm quite content."