Online:Ja-Reet
The UESPWiki – Your source for The Elder Scrolls since 1995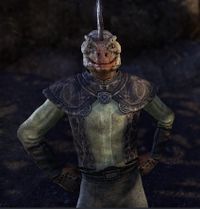 Ja-Reet is an Argonian found in the settlement of the Percolating Mire. He is married to Feyne Vildan.
Related Quests
[
edit
]
Into the Mire: Rescue the Mire villagers from the Dominion.
Clarity: Cure Ja-Reet of his mysterious silence.
Dialogue
[
edit
]
Clarity
[
edit
]
"I'm glad to see you awake."
You're feeling better?
"Yes, my thanks.
Now that I can hear the Hist, Tree-Minder Fal-Xoc wants to teach me to be a healer. Feyne wants us to return to Narsis. I don't know what to do."
What do you want to do?
"I want Feyne by my side wherever we live. Clearly, she's not happy in the mire, and I wasn't happy in Narsis.
You've traveled. I trust you. What would you do?"
What would you do in Narsis?
"Life won't be easy for me as a former slave. Even with Feyne's help, the best I could hope for is work as a laborer.
But her family's there, and she misses them. I value her happiness."
Will Feyne leave you if you stay?
"She wouldn't leave, and she'd be unhappy. But once my training's complete, we could move elsewhere.
Maybe a city like Stormhold would suit both of us."
Take Feyne back to Narsis
"Feyne came here to please me. It's only fair we should return to Narsis to please her. Thanks for helping me decide."
Stay and become a healer.
"I've always wanted to be a healer. Feyne and I can go anywhere once my training is complete. Thank you for helping me decide."
If Ja-Reet and Feyne decide to go to Narsis.
"We'll leave once we've packed our things."
If Ja-Reet and Feyne decide to stay in Percolating Mire.
"Since merging with the Hist, I feel so alive. I've made the right choice."