Online:Henodras
The UESPWiki – Your source for The Elder Scrolls since 1995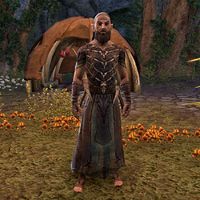 Henodras is a Bosmer and the former caretaker of the settlement of Shrouded Vale.
Related Quests
[
edit
]
Dialogue
[
edit
]
"Are you here for the choosing of our new caretaker? You've come at a good time for our village. This is an event held only once in a hundred years, give or take. Very rare event. Very rare."

How long have you been the caretaker?

"Ever since the last time the village was here, so a bit over a hundred years. Fading Tree and I care for each other, and the Wilderking] provides my sustenance.
I don't understand why the Wilderking let you in, though. "

How were you chosen as caretaker?

"The Fading Tree choses. It guides us toward the next caretaker. Not everyone has the courage, intelligence, and fortitude to undertake this position.
Everyone from the village knows how hard it can be, and yet nearly everyone wants to do this."

Aren't you ever lonesome?

"Lonesome? Hah!
No, it's nice to get away from everyone else. Quiet. Peaceful. And the Wilderking comes 'round now and then. Some might think of them as dreams, but I know he's been to see me. A caretaker's life is anything but dull."

Does the Wilderking control this place?

"I suppose your curiosity excuses your ignorance.
The Wilderking does not "control" this place. He allows us to take care of the Fading Tree in return for his protection. We don't question our oath, we fulfill it. "