Online:Laniriel
The UESPWiki – Your source for The Elder Scrolls since 1995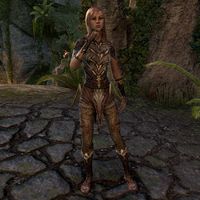 Laniriel is a Bosmer found in the settlement of the Shrouded Vale.
Related Quests
[
edit
]
Dialogue
[
edit
]
"Wait!
Ah, you're not one of those Wood Orcs, thank Y'ffre! Welcome to our humble home!"

So there is something in this cave after all.

"You met someone outside, did you? Some people get so frightened, they won't talk to us.
Yes, there is a village in this cavern. If you would like to hear our story, I'd be happy to share it with you. Promise you won't run away?"

I won't run.

"Our village has a pact with the Wilderking himself. The village goes away, then returns every hundred years or so.
Most of the time, our arrival causes no problem. This time, however, it's different."

What changed?

"Wood Orcs set up camp outside this cave's southern entrance. They've never been here before, and so we've kept quiet, hoping they'd go away.
It's been a week and they are firmly established. My husband Erunor isn't as worried as I am, though. "

What will you do now?

"My husband Erunor can tell you more. Essentially, we travel to and from this place, thanks to the Wilderking. A caretaker protects things in the village's absence.
In fact, we'll choose a new caretaker very shortly. "

Where's Erunor?

"Nearly everyone from the village attends the ritual to choose the next caretaker. No one knows who it'll be until the prior caretaker picks a name. It's held at the Fading Tree, through the central hall of this cave.
You should see it! It's very exciting.
"

The Fading Tree?

"It's a part of the oath. Ask my husband. He knows much more about it that I do. I prefer to scout and hunt, not tend plants.
He'll be at the choosing ceremony. If you hurry, you can talk with him before it starts. "

I'll attend the ceremony then.