Online:Harrada Harvest
The UESPWiki – Your source for The Elder Scrolls since 1995
This page is currently being rewritten as part of the Online Quest Project.
The page is being both written and checked. All users are welcome to make changes to the page. If you make a change that is relevant to the project, please update this template accordingly, and make sure you have observed the project guidelines.

| | | | | |
| --- | --- | --- | --- | --- |
| | | Investigate reports of a Daedric plant being cultivated within the Silent Halls. | | |
Adrahawn, an unusual Wood Elf with a passion for trees, claims that he is searching for an otherworldly seed rumored to be lost in the ruins known as the Silent Halls. I agreed to help him retrieve it.
Quick Walkthrough
[
edit
]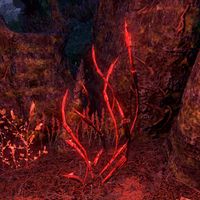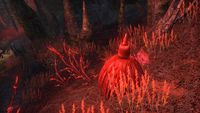 Speak to Adrahawn and enter the Silent Halls.
Investigate the strange vines around exterior ruins.
Enter the inner xanmeer and search for further clues.
Talk to Bevene Rethandus.
Find and free the remaining prisoners, then talk to Adrahawn.
Gather seeds from the harrada heart bulb and poison the harrada vines.
Talk to Adrahawn and make a decision on what to do with the seeds.
Detailed Walkthrough
[
edit
]
Quest Stages
[
edit
]
Harrada Harvest
Finishes Quest
Journal Entry
Stone walls surround the Silent Halls, but there is an entryway we can use to get inside.

Objective: Enter the Silent Halls

Adrahawn reacted to something the moment we entered the ruins. He claims the plants are shouting, but I can't hear anything. He suggested we search the overgrowth for some clue as to what the issue is.

Objective: Investigate the Overgrown Ruins: 0/3

Hidden Objective: Investigate the Overgrown Ruins

Hidden Objective: TRACKER GOAL TEXT

Hidden Objective: Pour the Herbicide on the Creeper Heart

We discovered several strange, dangerous vines growing among the native plants. I should speak to Adrahawn about this.

Objective: Talk to Adrahawn

Adrahawn confirmed his suspicion that the harrada creeper seed he was searching for seems to have sprouted. Its vines are growing out from deeper inside the Silent Halls.

Objective: Investigate the Interior Ruins

Upon entering the Silent Halls, we discovered some signs of recent occupancy. I should search the items left here for some clue about who's been here.

Objective: Investigate the Sacks

Objective: Investigate the Crates

Objective: Investigate the Backpack

The items seem to indicate that they once belonged to caravanners, but it's unclear how they got here. I should speak to Adrahawn about this.

Objective: Talk to Adrahawn

Adrahawn and I decided to resume our search for the source of the harrada creeper growth, wary that we might not be alone down here.

Objective: Investigate the Interior Ruins

We found a wounded Dark Elf among the bodies of some people who were recently killed. I should speak to her about what happened to them.

Objective: Talk to Bevene Rethandus

The Dark Elf begged me to rescue her family still being held captive by a tribe of hostile Argonians called the Sul-Xan. I should speak to Adrahawn about this.

Objective: Talk to Adrahawn

Adrahawn believes that helping the people held captive by the Sul-Xan should be our first priority. We need to locate where they are being held prisoner.

Objective: Find the Prisoners

The Sul-Xan's prisoners are being forced to tend to the harrada creepers vines throughout a large cavern. I need to undo their chains and release them.

Objective: Free the Prisoners: 0/3

Optional Step: Talk to Adrahawn

Hidden Objective: Investigate the Overgrown Ruins

Hidden Objective: TRACKER GOAL TEXT

We succeed in releasing all the Sul-Xan's prisoners and Adrahawn called out for me to meet. I should speak to him about our next move.

Objective: Talk to Adrahawn

Adrahawn believes the harrada creeper has grown too vast to be removed, but it can't be left to continue growing out of control, he's given me a variety of herbicides to try to kill it. I need to pour the poisons on vines throughout the cave.

Objective: Gather Seeds from the Harrada Heart

Objective: Poison the Harrada Vines

I successfully poisoned the harrada creeper. Adrahawn told me to meet up with him farther back in the ruin. I should speak to him.

Objective: Talk to Adrahawn

With the Hist's help, we found some remaining harrada seeds, but the Dark Elf woman Adrahawn is trying to rescue won't survive without the immediate treatment of potent medicine. I need to convince him to save her or the seeds.

Objective: Convince Adrahawn to Save Bevene

Objective: Convince Adrahawn to Preserve the Plant

Adrahawn will catch up once he's finished dealing with the seeds and Bevene. I should head outside to join the escapees.

Objective: Exit the Silent Halls

(If you convinced Adrahawn to save Bevene)
Adrahawn appears to have brought Bevene back from the brink of death. I should speak to him now that the ordeal is over.

Objective: Talk to Adrahawn

(If you convinced Adrahawn to save the seeds)
Ardahawn will catch up once he's finished dealing with the seeds and Bevene. I should head outside to join the escapees.

Objective: Talk to Adrahawn