Online:Gurlak
The UESPWiki – Your source for The Elder Scrolls since 1995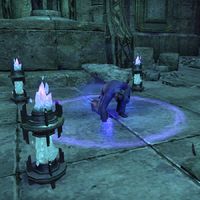 Gurlak is an Orc found in Salas En, imprisoned there by a curse.
Millennia ago, Gurlak was the slave of an Ayleid named Nuralanya. When their affair was discovered, they were magically shackled within Salas En. While they could always see one another, they could never touch. To prolong his torment, Gurlak was placed under a spell that unnaturally prolonged his life. Nuralanya, however, was allowed to age at a natural rate, forcing Gurlak to watch as she grew old and died over centuries.
When the Ra Gada invaded in the First Era, Gurlak watched them battle and slay his Ayleid captors, but the spells that imprisoned him persisted. Many explorers and adventurers have discovered him over the ensuing centuries, but none have been able to release him.
If you solve the spell's puzzle and free him, Gurlak will be astonished, but he will stay put, claiming that the room where he was imprisoned is all he really knows. The spirit of Nuralanya will then appear from a portal, claiming that Mara has allowed her to take him into the afterlife. He will follow her into the portal and disappear.
Related Quests
[
edit
]