Online:Gulmon Droth
The UESPWiki – Your source for The Elder Scrolls since 1995
Gulmon Droth
Home City
Kragenmoor
Race
Dunmer
Gender
Male
Health
39959
Reaction
Justice Neutral
Pickpocket
Medium
Profession
Cultist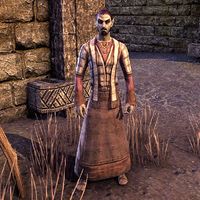 Gulmon Droth is a Dunmer cultist visiting the slave pens found in the city of Kragenmoor near the base of the southern bridge, along with his brother.
Dialogue
[
edit
]
Sometimes, he will attempt to stop you if you pass by or loiter in the area:
Gulmon Droth: "Do you think you have nothing? You always have your soul!"
Gulmon Droth: "Friend, have you considered the real value of your soul?"
Gulmon Droth: "You there! Will you let your soul fall into the hands of Daedra?"
If you speak with Gulmon, he will try to convince you to sell your soul to him.
"Friend, have you considered that your soul has a real value?"
What's all this talk about my soul?
"Has life beaten you down, friend? Have you no coin? No home to return to at the end of the day? No family or friends?
Fear not. You always have your soul."
Are you a priest of the Tribunal?
"Oh no, friend. I'm no priest—wouldn't claim to be. That sort of talk upsets the Ordinators.
I'm a businessman. And you, my friend, possess something very, very valuable."
You want to buy my soul?
"Just so. Have you ever seen a soul gem? Marvelous objects. They catch the souls of the dying, so their energy can be used to enchant things.
I offer cash up front. Five hundred gold now, and in one month, I harvest your soul."
How do you plan on getting it?/How do you plan to get my soul?
"We're merciful. We'll cast a sleep spell on you—you won't feel a thing.
There are a few who try to run, but ... this is a binding legal contract. If you don't pay, we'd have to tell the guards."
That's sick
"No, friend, no. That's business.
Look around. All the people here really want is some skooma and a few hours of ... forgetting. They're happy to trade what they have for a meal, a warm bed, and ... forgetting."
No, thank you.
"That's fine, friend.
If you still hope that life will work out for you, well, it's good to have dreams. But if you ever find yourself alone—cold, heartbroken, and hungry ... I'll be here."