Online:Glaurilas
The UESPWiki – Your source for The Elder Scrolls since 1995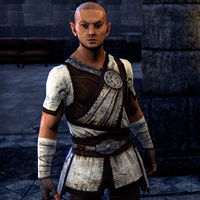 Glaurilas is a Bosmer Star-Gazer scholar and patron of the Crossroads Tavern, the inn located in the town of Belkarth.
He is searching the library on the upper floor of the inn. You can sometimes hear him moan in despair or mutter "There has to be something here!" to himself.
When you speak to him, he will say, "Of all the ... oh, I'm sorry. I didn't see you there."
Is something wrong?

"No, of course not. I've got everything well in hand. I just ... oh, who am I kidding? Mistress Nazdura sent me to look for some star maps. Why anyone would keep something like that in an inn, I'll never know."
Not having any luck?

"You've no idea. These books and papers ... it's like a giant ate a library, got sick, and then threw it all back up. No rhyme or reason—just piles.
Sorry for the metaphor. I'm not usually so ... graphic."
Well, I hope you find what you're looking for.

"Thank you. Ugh. Back to it, I guess.
Mara, help me."