Online:General Thoron
The UESPWiki – Your source for The Elder Scrolls since 1995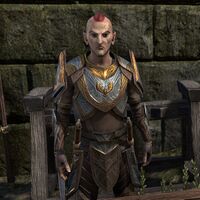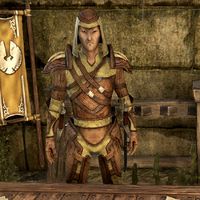 General Thoron is a Bosmer officer of the Aldmeri Dominion found at the Eastern Elsweyr Gate. He is responsible for handing out scouting and bounty missions for the Dominion.
Related Quests
[
edit
]
Dialogue
[
edit
]
Reporting for Duty
[
edit
]
"Sorry, soldier. Very busy here right now."
"Consult the mission boards for Grand Warlord Sorcalin's latest orders, soldier."
Can you tell me about your mission boards?
"Of course. Which would you like to hear about?"

Tell me about Bounty missions.

"Bounty missions are simple: Kill enemy soldiers. If you kill enough of them, come back for a reward."

I'd like to hear about Scouting missions.

"Information is vital to winning this war. Each Scouting mission sends you to a target deep in enemy territory. If you can get there and look around, report back as soon as possible."

What about the other missions?

"Talk to General Atahba about them. She's on the other side of the gate."
Completing Missions
[
edit
]
Once you return to the Dominion camp after completing your scouting or bounty mission, General Thoron will say one of the following:
General Thoron: "Good! Your deeds on the Dominion's behalf will not be forgotten."
General Thoron: "A mission accomplished and the Dominion cause advanced! Excellent, but there is always more to be done."
General Thoron: "The Dominion is grateful for your efforts, warrior!"
General Thoron: "Good work. I will make sure that Grand Warlord Sorcalin hears of your efforts on our behalf."
General Thoron: "An army is only as strong as the heroes who lead it. Keep up the good work."