Online:Firalboreth
The UESPWiki – Your source for The Elder Scrolls since 1995
Firalboreth
Home City
Firsthold
Race
Bosmer
Gender
Female
Reaction
Friendly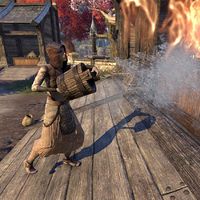 Firalboreth is a Bosmer found in the city of Firsthold.
Dialogue
[
edit
]
Talking to her outside the western gate before completing the quest, she'll say:
"Nothing ever comes of worshipping Daedric Princes. Especially one like Mehrunes Dagon. I can't imagine this bodes well for Estre."

What do you know about Mehrunes Dagon?

"Nothing good can come of that Daedric Prince. Out of all of them, he'd be the most feared. Some govern over realms that may be viewed as neutral, but his is everything evil."

What is his realm?

"In a word: destruction. He also governs over change, revolution and ambition. You could say those are more neutral, but look at Estre and what she's done. Her ambition,'s brought nothing but destruction."
When spoken to after the siege of the city, she'll complain, "Damn Auri-el! How could he allow something like this to happen to me?"